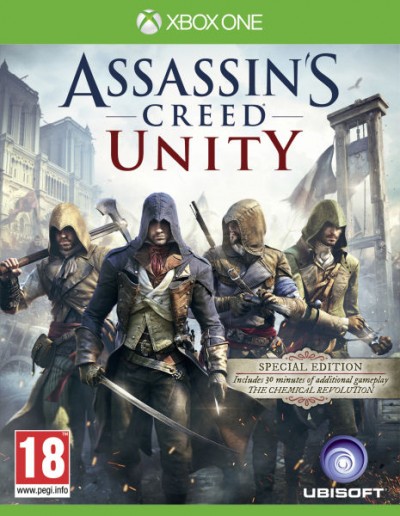 Xbox one Assassin's Creed Unity
Assassin's Creed Unity is an action/adventure game set in the city of Paris during one of its darkest hours, the French Revolution.
Warranty: No Warranty
Delivery Time: 1-2 Days
Condition: New

Product Description
Game
Assassin's Creed Unity is an action/adventure game set in the city of Paris during one of its darkest hours, the French Revolution. Take ownership of the story by customising Arno's equipement to make the experience unique to you, both visually and mechanically. In addition to an epic single-player experience, Assassin's Creed Unity delivers the excitement of playing with up to three friends through online cooperative gameplay in specific missions. Throughout the game, take part in one of the most pivotal moments of French history in a compelling storyline and a breath-taking playground that brought you the city of lights of today. The downloadable version of this game supports English, French, Spanish, Portuguese.
Features:
A Ruthless New Hero for a Brutal World – Play as Arno, an entirely new breed of Assassin, more lethal than his ancestors. Take down your prey with a range of new weapons such as the Phantom Blade, a Hidden Blade with crossbow capabilities.
Brand New Parkour, Combat, and Stealth Gameplay – Enjoy an unprecedented degree of freedom and control over your Assassin, brought to life by the new Anvil engine.
Full motion control: New parkour mechanics for seamless free running up, across, and down city walls and buildings.
A Reinvented Fighting System: Provides a richer combat experience based on skill, timing, and flow.
Enhanced Stealth Gameplay: Including new stealth mode, cover system and crowd manipulation techniques. Stay hidden, stalk your prey and strike without warning.
Explore detailed building interiors and discover secret underground catacombs and sewers.
Embark on Ancestral Missions, Treasure Hunts, Murder Mysteries, Contracts and more. The city is packed full of activities that will captivate you for hours
Witness the chaos of the French Revolution first-hand by immersing yourself in realistic, systemic crowds of up to 5,000 AI driven characters.
Deep Customisation Mechanics to Craft Your Own Master Assassin – Craft your own unique play style by choosing your weapons, gear, outfit and specialized skills. Mix and match from hundreds of possible combinations and build your Stealth, Fighting, and Navigation abilities from a new expansive skill tree. Become the ultimate Master Assassin.
Discover Revolutionary Paris, Brought to Life as Never Before – Carve your way through a stunning full scale, open world city, a feat only possible through the power of the new Anvil engine.
A Unique Co-Op Experience You Must Play to Believe – In addition to an epic Singe Player campaign, join up to three friends and experience the online open world of 18th century Paris. Pull off ambitious Heists and take part in unique narrative driven missions designed exclusively for cooperative play. Sabotage an execution. Protect an emperor. Assassinate a Templar agent. But victory won't be easy; you and your lethal band must rely on communication, coordination, and diverse skills to accomplish your missions, then vanish into the shadows.
Additional Information
| | |
| --- | --- |
| Warranty | No Warranty |
| Shipping Charges | Free Shipping |
| Delivery Time | 1-2 Days |
| Condition | New |