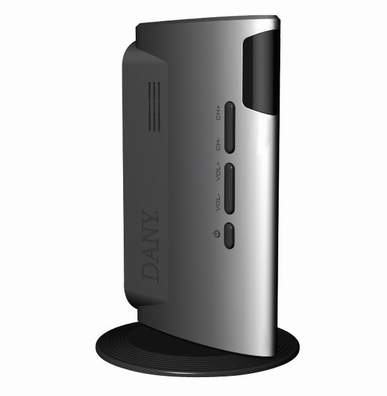 Dany LCD TV Device
HDTV is one of the best offerings of Dany.
Warranty: 1 Year Brand Warranty
Delivery Time: 2-3 Days
Condition: New

Product Description
Resolution Support
For wide & conventional Screens – High Resolution upto 800 x 600 (normal) & 1920 x 1200 (widescreen) output, which feasts your eyes with extra-ordinary picture quality. It is fully compatible with both CRT & LCD Monitor.
Built-in FM Radio
It offers Built-in FM Radio so that you can listen/ enjoy Radio programs along with TV programs
as well.
PnP – Picture in Picture Mode
PnP Function allows you to enjoy TV programs while operating PC.
4:3 & 16:9 aspect ratio support
This device supports both normal (4:3) & widescreen (16:9) monitors. Select the mode which best support your monitor.
Full Featured Remote Control
The Device has full featured remote control with it so that you can take full control of your device with comfort.
Channel Lock
This option enable you to lock unwanted channels when ever you need.
Additional Information
| | |
| --- | --- |
| Warranty | 1 Year Brand Warranty |
| Shipping Charges | Rs. 200 |
| Delivery Time | 2-3 Days |
| Condition | New |